Supreme Snowboard / Ski Tuning Kit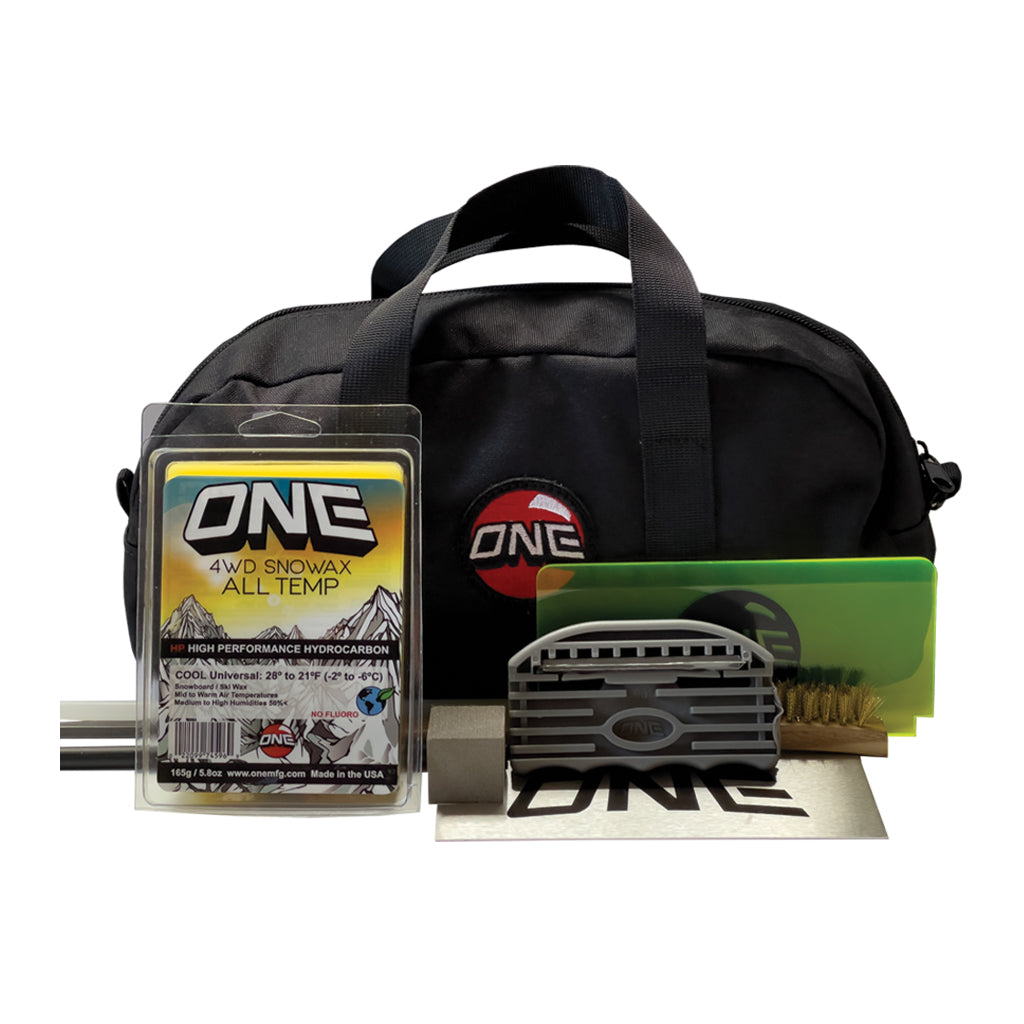 The Supreme Tuning Kit:
For Who?

We put this kit together along with the Supremely Hot Tune Kit, to be used by snowboarders and skiers alike.
Just about everything you will need to get your equipment ready to go. You need edges that are smooth, sharp, and rust-free. And you need some wax on the base to get the most our of your equipment and day.
Includes: 4WD Cool 165g bar. (World Cup proven formula) Large Edger Tool,  8" metal file, Gummy Stone, File Brush, 6" Scraper, Metal Scraper, White and Black P-Tex Sticks, and a high quality, long lasting, custom zippered pouch to hold it all. (Kit ships in the Blue Stix colorway bag for now).
Tuning Instructions:
1. Place board or skis in a vise to secure and clean base with a fresh hot wax job and scrape or use ONE MFG Base Cleaner. 
2. Check the side and base edges for burrs. Rub a ceramic, diamond, or gummy stone over the area to remove burrs in preparation for edge shaping. 
3. Use the ONE MFG edge tool to sharpen side edges. Start from the tip and pull smoothly with firm pressure to the tail. Do this in smooth passes until the edges are sharp. Repeat on the other side. Remember to flip the file around so that the teeth face the proper direction... look for the arrow.
4. If you like your board or skis to be catch free in the tip and tail, then de-tune using a de-burring stone to round the edges on the tip and tail. Start on the edges as they curve up into the tail and nose and file down approx. 1.5" past the edge contact point as your base lays flat. Keep your edge tool clean with the file brush! 
5. For really sharp edges, take a fine diamond stone or polishing stone and go over the edge again using the same technique. 
6. If you like to jib rails and boxes, don't sharpen your edges much to keep them catch-free.
7. Clean off base with a dry towel before waxing.
8. Choose your favorite wax for the day. Use All-Temp Wax  if you don't have an idea of what the temperatures will be.
9. Hot wax your base for 10-15 minutes. Do not allow the iron to smoke.
10. When wax is cool scraper with plastic scraper.
11. Brush out base
12. Enjoy the speed!
 Rub-On Wax Instructions:
1. Dry base
2. Warm base if possible (easier to wax).
3. Wear a glove for edge protection.
4. Rub Wax into base with pressure. Apply to completely cover.
5. Use cork to polish wax into base.
6. Lightly scrape off (if possible).
7. Lightly brush out or polish to remove extra wax.
PRO TIP:
When you place the edger on your edge. The number of degrees on the tool below the file, is the number of the bevel the guild is delivering to your edge.